Harper's Homemade
Harper's Homemade Bread
has an intriguing history.


Harper's Homemade Bread was born in 2001 in Pocatello, Idaho, with the drive to be the freshest, cleanest, best-tasting bread product on the market.  Since the day Harper's White, Honey Wheat and Bran breads first entered local grocery stores, their quality and freshness remain unchanged.  All Harper's loaves continue their freedom from added preservatives and enjoy a taste-loyal following that makes baking them a true delight.
In 2016, Harper's Homemade became a Driscoll Brands product, and now sources ingredients, such as wheat, sugar, and potato flour from local farms operated by the Driscoll Family of companies.  We believe that adding Driscoll's farm-to-table freshness to Harper's home-baked taste makes for a truly irresistible combination.
Our bread provides something for a spectrum of discerning customers.  Our Bran Bread is loaded with 5 grams of bran per serving, providing wonderful nutritional benefits to go along with its great taste.  Our Honey Wheat Bread contains no added sugar and is made with whole wheat bread and locally sourced honey. The most gratifying comment we receive from customers about our White Bread is that it makes them happy!
Well, it makes us happy to bake it, too, but not just because it's great bread.  We're happy because baking Harper's Homemade helps us deliver on our core purpose and to do good in the world.  We are in the food business, which puts us in the unique position to... well, feed people, and we love to feed people, especially those who need a little extra help in their food budget.
In 2016, Harper's Homemade sold the company to the Driscoll Organization. The Driscoll's are a 3rd Generation Family owned and operated company primarily based in Southeast Idaho. The Driscoll Family is rooted in quality and high production agriculture. The Driscoll's and their team of employees have a passion for growing world class crops and being a tool in feeding the world.
The Driscoll business was established in 1954 by Wally & Maurine Driscoll as they acquired their first piece of farm ground and began the journey of building a family farming operation. Overtime the Driscoll's grew in size and numbers. Wally worked with his four oldest sons as partners and grew the farming operation where today the Driscoll's farm in excess of 25,000 acres. The farming operation includes Wheat, Potatoes, Sugar Beets, Hay and Corn. The Driscoll's overtime have branched out into several different businesses including Potato Packaging Facility, Transportation, Cattle, Hay Export and a Truck Dealership. The Driscoll Operation today includes several 3rd Generation Family Members along with a large family of employees and team members. The Driscoll Family is passionate about "Living with Purpose" and making a difference in the world.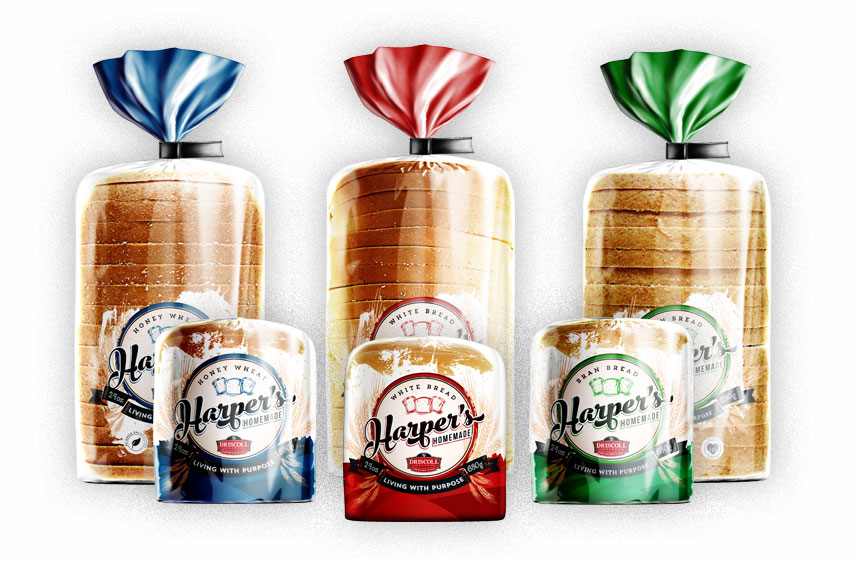 Who is the Driscoll Company? We own an Idaho-based farming operation named Driscoll Brothers. We produce wheat, potatoes and sugar beets. That's exciting, because we now have the potential to utilize our own produce in the bread and truly deliver a farm to table product!
The Driscoll Family is excited to expand Harper's Homemade into several new regions in the coming years and especially want to thank all of you for your loyal business. We look forward to sharing the product and story of how the farm products are grown, harvested and integrated into this delicious and homemade bread product. Looking to the future...The purpose of the Driscoll Organization is rooted in creating joy, happiness and opportunity among God's children. We're excited that our acquisition of Harper's Homemade will allow us to continue fulfilling that purpose.
In the past, Harper's Homemade bread has been discarded in order to preserve our freshness guarantee. The Driscoll Family saw the opportunity to take this bread, which still had several days of shelf life, and donate it to feed the hungry. We have already found avenues to utilize this bread for good and to hopefully bless and help many lives throughout our community. This is truly the greatest joy that comes along with seeing so many fans who love our product. We sincerely thank you for your support and passion for our product!
Harper's Pledge
Harper's pledge of Genuine Freshness simply means there are no chemicals in our bread to alter its taste, make it last, or create a soft appearance. Because of that, our bread remains in stores only for a few days to ensure freshness.