Harper's Homemade Bread
has an intriguing history.


Harper's Homemade bread was born in Pocatello, Idaho in 2001, with a drive to create the freshest, cleanest, best-tasting bread on the market. And that's just what they did.
Harper's Homemade became a Driscoll Brands product in 2016 and now sources ingredients from local farms, including those operated by the Driscoll family of companies. We believe that combining the Driscoll farm to table freshness with Harper's home-baked goodness creates a truly irresistible combination.
With the new purchase came an updated logo and packaging change. Though the packaging look has changed, the recipe and the love put into each loaf remain unchanged. With three different breads available, you can find your perfect fit. We've done the dirty work for you—it's delicious homemade bread without the hassle of making it yourself!
In the past, Harper's Homemade bread was discarded after a few days to ensure its freshness guarantee. The Driscoll family saw the opportunity to take this bread, which still had several days of shelf life, and donate it to feed the hungry. We have already found other channels to utilize this bread for good and to help bless many lives throughout our community, which brings us great joy.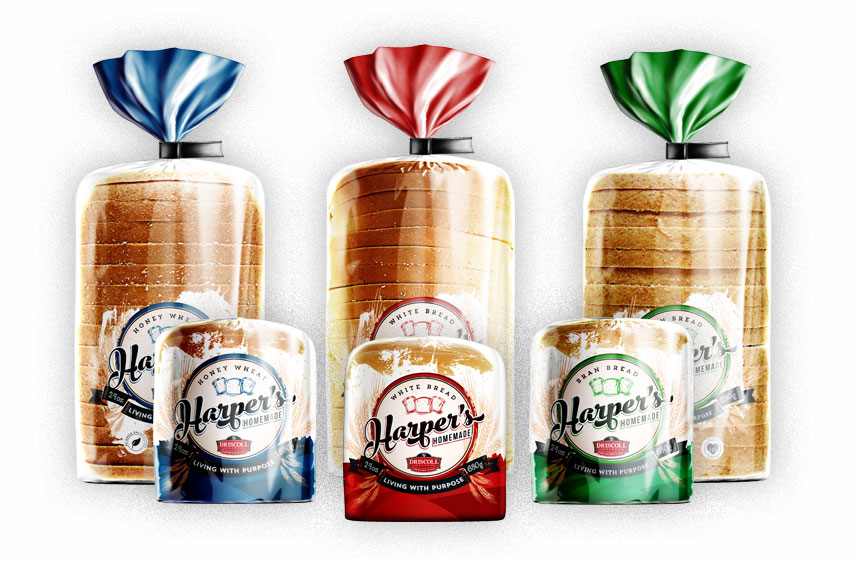 We currently offer three mouth-watering breads—always free from added preservatives. Our Bran Bread is loaded with five grams of fiber, which provides excellent nutritional benefits to go along with its great taste. Our Honey Wheat Bread contains no added sugar, is made with whole wheat flour, and with locally sourced honey. Our White Bread is a customer favorite; the biggest compliment we receive is hearing our customers say, "It makes me happy!"
The Driscoll business is a family owned and operated company primarily based in southeast Idaho. It was established in 1954 by Wally and Maurine Driscoll after acquiring their first piece of farm land. Since then the family and farm continued to grow. Today the farming operation includes growing wheat, potatoes, sugar beets, hay, and corn. The business has also diversified into other avenues, including transportation, potato packing, hay export, cattle, and a truck dealership. The Driscoll operation now includes several third-generation family members, along with a large family of employees and team members. The Driscoll family is passionate about "Living with Purpose" and being a world class leader in agriculture and food services.
The Driscoll family is excited to expand Harper's Homemade to new regions in the coming years. We sincerely thank our customers for the support and passion for our product! We look forward to sharing the farm to table story by showing how crops are grown, harvested, and integrated into this delicious homemade bread. Here's to the future!
Harper's Pledge
Harper's pledge of genuine freshness guarantees there are no chemicals in our bread to add preservation, alter its taste, or create a soft appearance. Due to this, Harper's Homemade bread is cycled through stores to ensure you are receiving the freshest of bread.