Harper's Homemade
Different Recipes
We have put several of our favorites on our recipes page.
We will continue to add more recipes to our site as we find more favorites.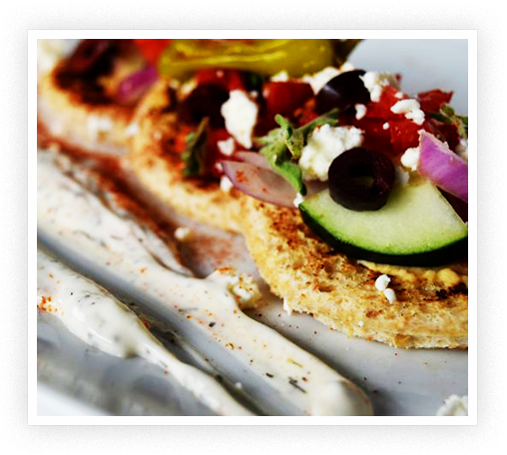 Greek Flatbread
This is a 3-part recipe**
1) Tzatziki INGREDIENTS
1 Cup non-fat plain Greek yogurt
1 Cucumber, seeded and diced
1/2 Cup Feta cheese, crumbled
2 TBS Olive Oil
1 TBS red wine vinegar
1/2 Lemon, squeezed
2 Fresh Oregano springs, remove stems
4 Fresh Basil leaves, chopped
Salt and pepper to taste
1/2 TSP Dill, dried
DIRECTIONS
Add items into food processor and pulse 2-3 times to evenly blend the ingredients. Cover and chill the dip while you're preparing the rest of the dish.
2) Hummus INGREDIENTS
1 Can garbanzo beans
1/2 Cup olive oil
2 Garlic cloves
1 Lemon, squeezed
3 TBS Tahini Paste
Salt/pepper/Paprika to taste
DIRECTIONS
Add items into food processor and blend on high until mixture is smooth. Sprinkle with paprika and set aside.
3) Dish INGREDIENTS
3 Slices of Harper's Wheat Bread
2 Roma Tomatoes, diced
1/3 Red Onion, diced
2 Cloves of Garlic, minced
6 Kalamata Olives, sliced
1/3 Cucumber, diced
1/2 Red Bell Pepper, diced
1 Lemon, squeezed
2 Fresh Oregano Springs, discard stems
2 TBS Feta Cheese, crumbled
2 TBS Olive Oil
Salt and pepper to taste
1 Pepperoncini, whole
2 TBS Hummus
1 TBS Tzatziki dip
Dish DIRECTIONS
Begin by using a water glass to cut out a circular shape in the slice of bread, discard the crust.
In a small mixing bowl add diced Roma tomatoes, diced onion, diced red bell peppers, diced cucumbers, sliced Kalamata olives, minced garlic, salt, pepper, juice from 1/2 lemon and 2 TBS Olive Oil and mix together. Set aside.
Heat up a grill pan and gently toast both sides of bread until grill marks appear, usually 30 seconds per side.
Dress the serving dish with Tzatziki Sauce by dipping a spoon into the chilled dip, dabbing some onto the plate and using the backside of the spoon to swiftly push the middle of the dip towards the edge of the plate to achieve an artistic spread.
Place grilled bread in the center of the dish, spread each piece with hummus, top with the garden mixture, finish with fresh Oregano leaves, Paprika, Pepperoncini and 2TBS crumbled Feta cheese and enjoy!